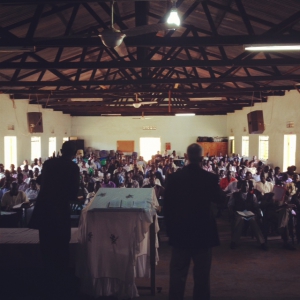 Last night the PDN Conference team took some time to debrief. We each shared things that God spoke to us during the last couple weeks.  It was a great time of sharing.  God has done some deep things in the lives of African Pastors, and in us as well.  My list will grow when I get back home.  Like a good movie, these experiences continue to roll around my soul.
As I reflect on the last 2 weeks, here are a few of the things rolling around my mind.
African Pastors are Resilient.  They are men and women who are ministering under tremendously difficult circumstances.  They have a desire to move the kingdom forward, all while living in poverty (less than $2 a day).
A third world experience will hurt.  Before I left home, I felt like the Lord told me 2 things:  (1)  I am going to let you drop into the African culture deeper than before, and (2)  It is going to hurt.  He was right on both counts.  Poverty is confusing and painful.  The scope makes me feel helpless.  It makes me question things we accept without question.  The answers are not easy.  And I doubt there will be much resolve in my soul this side of heaven.  That's probably the way it should be.
Teamwork is a beautiful thing.  The MCC team was awesome.  We each pulled together in our roles (Mariah with social media, Bruce, Paul, and I with teaching).  Bigger than that, The Pastors Discipleship Network team was amazing.  They love Christ, the Pastors of Africa, each other, and their jobs.  Everyone manned their post with no drama.  They support each other in tremendous ways.  It is a beautiful thing to see.
Heaven is going to be indescribably.  Revelation gives us a peek.
9 After this I looked and there before me was a great multitude that no one could count, from every nation, tribe, people and language, standing before the throne and in front of the Lamb. They were wearing white robes and were holding palm branches in their hands. 10 And they cried out in a loud voice:
"Salvation belongs to our God,
who sits on the throne,
and to the Lamb."  – Rev 7:11
Standing in the middle of worship in Africa is an amazing thing. I can't imagine what it will be like when all the nations worship; but I am looking forward to it!
Here is a little video just to give you a taste.
Note:  Our team will be wrapping up our time in Africa tomorrow, preaching at 3 services at a church in Kampala.  We will be dropping off the internet grid as we make the 9000 mile trek back to the states. Thanks to all who have supported through finances and prayers.  It was a great 2 weeks of ministry.