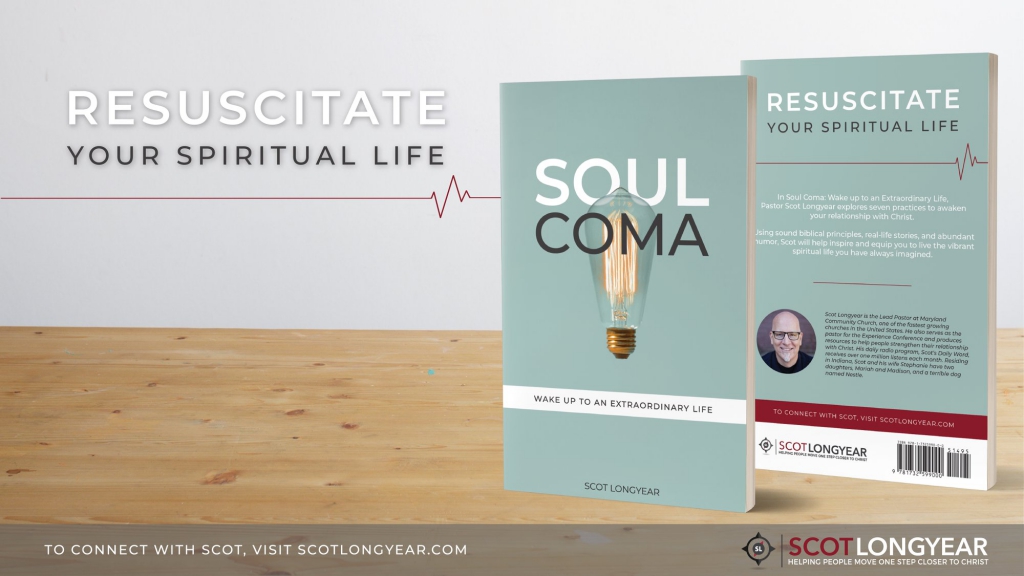 Since our launch, hundreds of people have used Soul Coma to wake up their spiritual lives.  Here is some recent feedback:
Can't put it down! Within the first 16 pages I have experienced tears of laughter and tears of painful conviction!
– Patrick Killeen
Just wanted to tell you that I enjoyed the way you used humor, wit, and personal stories to get the message across in your latest book. I give it 4 1/2 stars. I would give you 5 stars but I don't want it to go to your head.  Haha!
– Sandy English
I'd love to ship you a copy (or copies) of Soul Coma so that you can experience this resource for yourself. To take advantage, click here.
Also, many worship and small group leaders plan on using Soul Coma with their groups. Each chapter includes discussion questions to help foster spiritual growth. Together you will discover how to:
Worship with Intensity
Chase the Word
Force the Joy
Accelerate the Holy Spirit
Much more
How to use Soul Coma with your team:
Grab a copy for each of your members, assign one chapter per week, and start your rehearsal by leading a few minutes of discussion.
Assign a team member to give a synopsis of a chapter at the beginning of your rehearsal. Next week assign a different team member and different chapter.
Use Soul Coma as a prayer guide. Give a chapter summary and pray around the theme of that chapter.
Give Soul Coma to your current team members as a way of thanking them for their service. Ask them to read it on their own as a way to jump start their private devotional time.
When new people join your team, give them Soul Coma, setting the expectation that they grow spiritually as part of your team.
Give a copy to some worship leaders in your city, letting them know you are thankful for them.
Gift a copy to your Lead Pastor. (For real, when is the last time you gave him a gift?
LAUNCH OFFER ENDS TONIGHT AT MIDNIGHT! CLICK HERE TO ORDER. 
Thanks for all you do for the kingdom and the King,
– Pastor Scot Longyear
PS – I've been surprised (flattered actually) by the number people who have requested signed copies. If you would like a signed copy for you or someone else, simply let us know when you place the order (there is a comment section on the order form) and I would be happy to personalize the book. 
PSS – If you are part of Maryland Community Church, the book is on sale next Sunday at all MCC campuses at a special price (last Sunday for this price is Oct 21.)