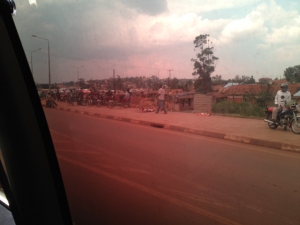 I am writing this from the back seat of a van.  We are travelling through Uganda, watching  a foreign world pass by our windows.  This is my 2nd trip to Africa.  This is a beautiful country.  These are beautiful people.  Some of them are my friends. More are becoming my friends.  We are much the same.  We share a common belief in God.  We are human.
And the similarities seem to end there.
They live in a culture I do not understand.  They live in conditions that I cannot wrap my mind around.
In a training session with African Pastors, a Pastor stood and asked me a question.  "How do we do ministry to our people who are in extreme poverty."  I thought for a moment.  I searched for a great answer. I have observed poverty in many countries.  I am involved in releasing kids from poverty.  I have a theological degree.  I am ordained.  I am a full-time Pastor.  I help train Pastors to do ministry.  I thought hard and fast about my answer.  Calling on all my experiences, I looked him in the eye and gave him my answer.
"I'll be honest: I do not  know.  You live in conditions that I do not understand.  You deal with issues I cannot get my mind around."
I don't understand poverty.  The issue itself is deep and wide.  Looking through the van windows I see an issue that looks overwhelming.  The problem is complex.  The solutions even more so.
Something, somewhere has gone terribly wrong.
The solution to eliminating extreme poverty from the masses?  I don't know.  But . . .
I do know there are small things to do to combat extreme poverty.  Compassion International is an organization I have been involved with for 25 years.  They help release children from poverty in Jesus name. Compassion offers education, a spiritual base, food, and medical care (and more). You can make a difference in the life of a child through a monthly sponsorship of $38.00.  I might not stop poverty for everyone.  But I can stop poverty in the life of one child.  And so can you.
—–
Tomorrow we visit New Life Baptist Church Nakawa.  My friend Richmond Wandera grew up there, in extreme poverty.  At a young age, he  became a compassion child.  His life was slowly released from poverty.  Today Richmond (who holds a masters degree) serves as the Founder of the Pastors Discipleship Network.
Note: For rapid and almost real-time updates, follow me on facebook or twitter.